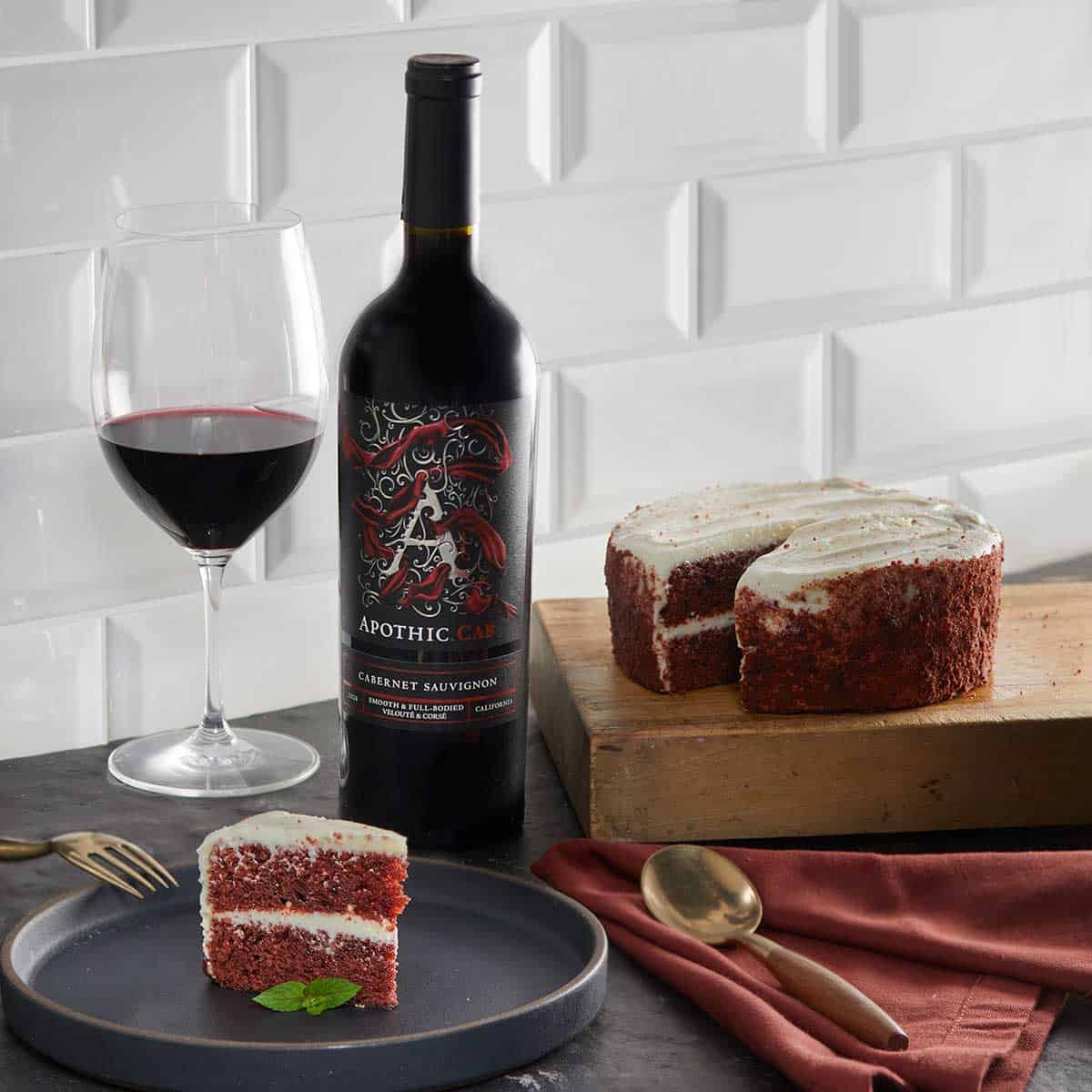 Ingredients
Cake
1 box red velvet cake mix
1 cup buttermilk or water
½ cup vegetable oil
3 eggs
1 bottle (1 oz) red food coloring
½ cup Apothic Cab
2 tbsp unsweetened baking cocoa
Cream cheese frosting (or store bought)
2 oz cream cheese, softened
2 tsp milk
1 ½ cups whipping cream
½ cup powdered sugar
Prepare
Preheat the oven to 350°F (325°F for dark or nonstick pans). Grease the bottom and sides of a 13×9-inch pan or two 9-inch round cake pans and lightly flour, or spray with baking spray and lightly flour.
In a large bowl, add all of the cake ingredients together. Use an electric mixer on low speed for 30 seconds to beat the ingredients together, then on medium speed for 2 minutes to combine fully, pausing to scrape the bottom of the bowl occasionally.
At this time, place another large bowl in the fridge for use later – to make the frosting.
Pour the cake mixture into the pan(s).
Bake as directed on the cake box. Remove from the oven and allow the pans to cool for 10 minutes before removing the cake from the pans onto a cooling rack. Then, let the cake cool completely.
In the chilled large bowl, mix the cream cheese and milk together until well combined and smooth.
Beat in the whipping cream and powdered sugar with the electric mixer on high speed, scraping down the sides of the bowl occasionally, until soft peaks form.
Frost the top of your cake, or you can fully fill and frost the individual cake layers.
Store loosely covered in the fridge until you're ready to serve.
Finish & Serve
When it's time for dessert, cut generous slices of the cake and serve it with a glass of Apothic Cab for a delectable night in