Frequently asked questions
How long does red wine last after opening?

A bottle opened friday, stays fresh all weekend.

When kept in a cool, dark place, an open bottle of red wine can last an average of 3-5 days. Start the party with your friends, and the remaining amount can last till your next treat-yourself-night.

How many glasses does a bottle pour?

One bottle serves four friends perfectly.

A 750ml bottle can serve 5 glasses of 5 fluid ounces, perfect for serving yourself a glass and 4 friends.

How many calories are in a bottle of wine?

Not enough where you need to worry.

Apothic Wines range from 100 to 200 calories per glass – making it a guilty-free addition to your Treat Yourself Night.

Does wine freeze?

All wines can freeze, so make sure your wine is chilled to perfection.

Wine color doesn't determine the freezing point but the alcohol content does. The majority of wines will freeze after 5 hours in a standard freezer.

Pop a bottle in the fridge when your friend starts their Uber journey, and it'll be perfectly chilled by the time they arrive.

How many types of red wine are there?

As many varietals as there are to fit your palate

There are as many varietals of red wine as there are red grapes planted in all corners of the globe. The main types you will likely encounter include: Cabernet Sauvignon, Syrah, Zinfandel, and Merlot, to name just a few. There are red blends, which are a combination of many different grapes, and there are single varietals, which are made with one type of grape. Apothic changes the game with their masterful creation of both types of red wine; pleasing as many different palates as there are red wine varieties.

Should Red Wine Be Chilled?

Traditionally, red wine is served at room temperature, which is typically between 60-68°F (15-20°C). However, chilling it slightly can sometimes enhance its flavour and aroma.

Light-bodied red wines, such as a Red blend, can benefit from being served slightly chilled because chilling can help to bring out the fruity and floral notes. On the other hand, full-bodied red wines, such as Apothic Cabernet Sauvignon, are typically served at room temperature. Chilling these types of red wines can actually mask their flavours and make them taste flat.

So, should you chill your red wine? It is ultimately up to you! Apothic wines can be enjoyed both chilled and at room temperature, depending on the type of wine. Experimenting with different serving temperatures can be a fun way to discover new flavours and aromas in your favourite red wines. Cheers!
How do you make a sangria with red wine?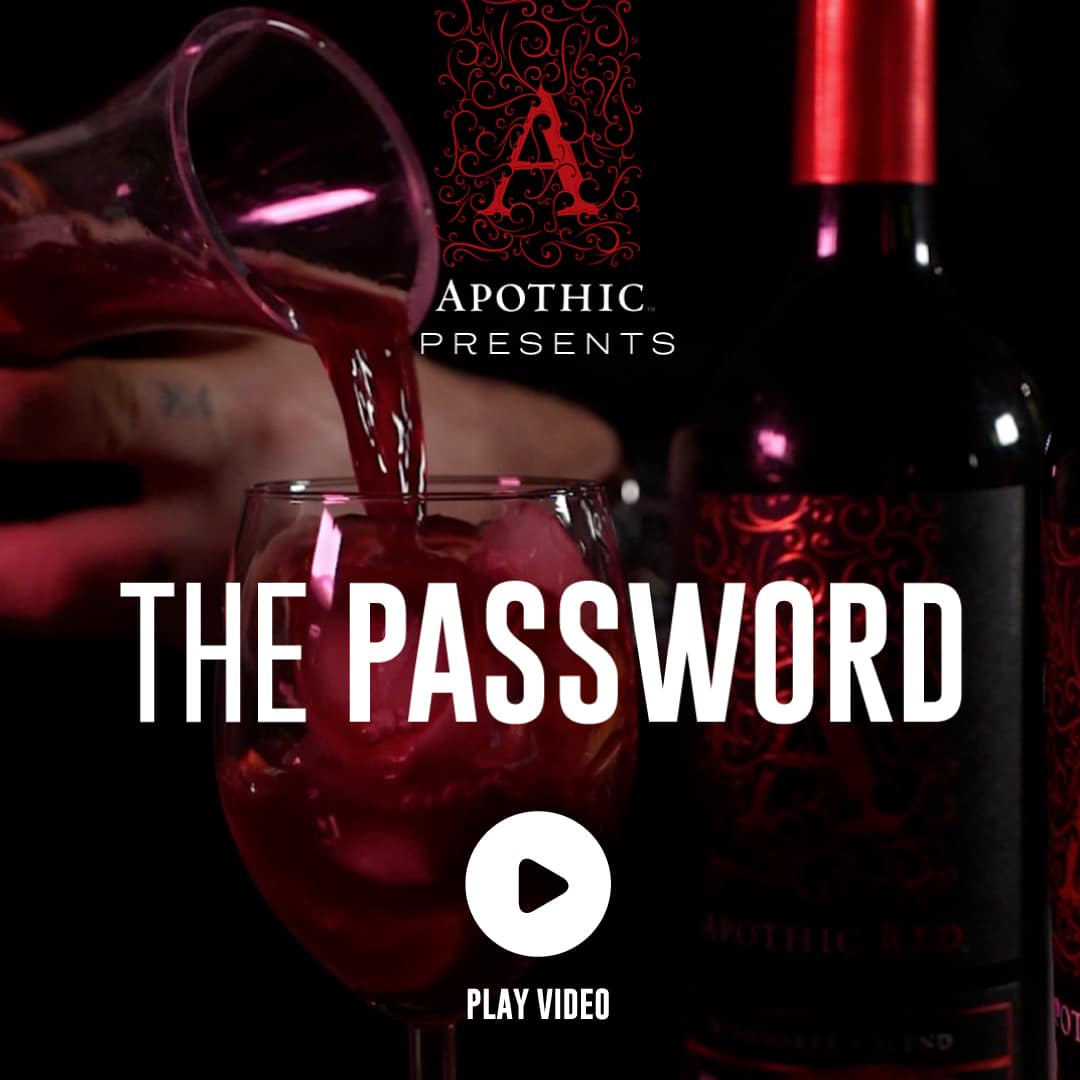 Apothic Wine is the perfect base for your sangria.
Many sangrias form their base around a fruit forward wine, with notes of oranges, apples, berries and stone fruits. Grab a bottle of Apothic, add in your favourite liquor and fruits, stir and enjoy! Check out our Sangria recipe "The Password" for inspiration.
"The Password" Sangria ingredients:
2 shots of brandy⁠
1 cup of orange juice⁠⁠
1 bottle of Apothic Red⁠⁠
Add ice, orange and apple slices⁠

⁠