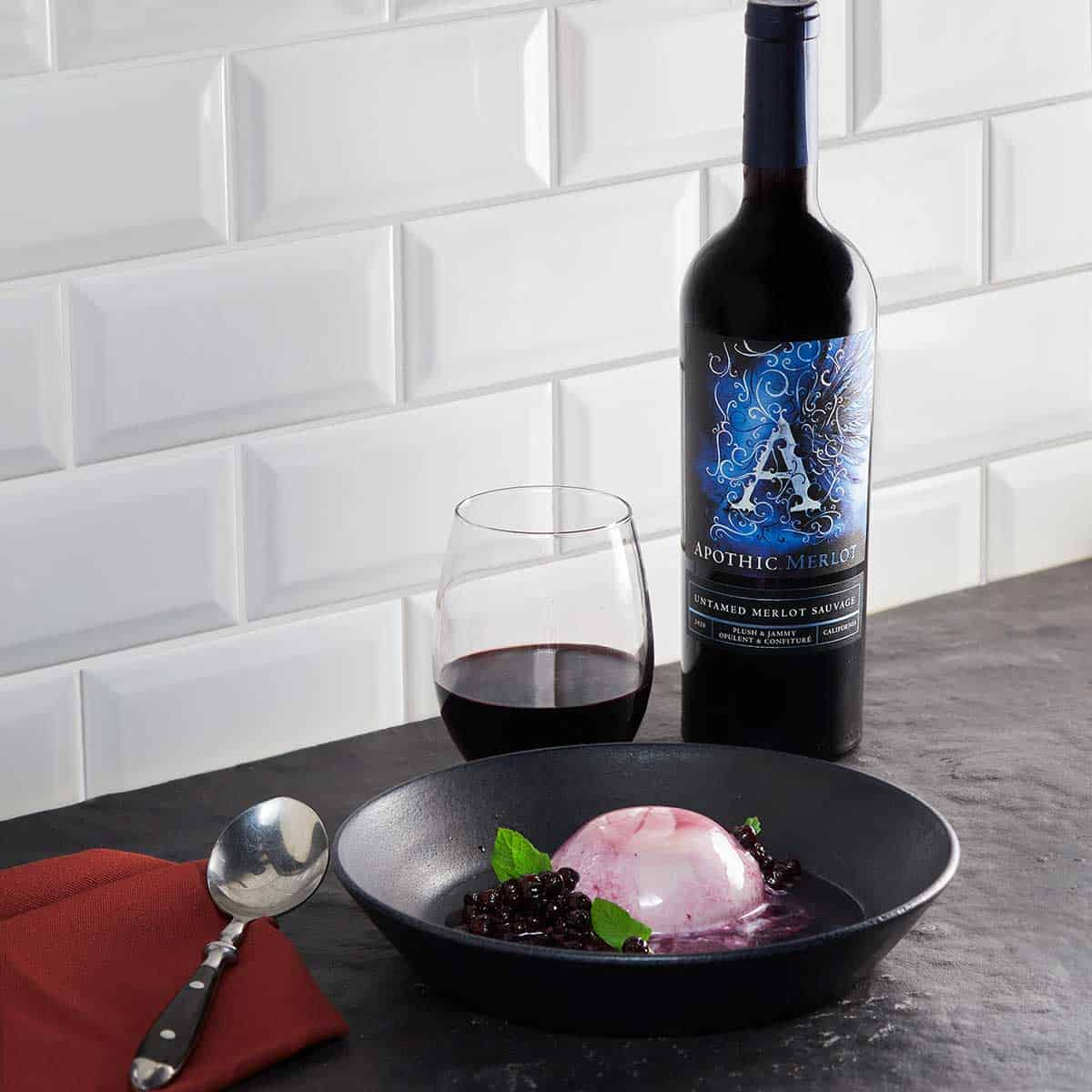 Ingredients
Panna Cotta
unflavored gelatin (about 1 tablespoon)
2 tbsp cold water
2 cups heavy whipping cream
½ cup Apothic Merlot
1 cup 10% cream
⅓ cup sugar
1½ tsp vanilla extract
Berry wine sauce (optional)
3 ½ cups Apothic Merlot
½ cup fresh lemon juice
4 ½ cups white sugar
2-3 cups fresh berries
Prepare
Panna Cotta
In a small saucepan, add 2 tablespoons of cold water and sprinkle in the gelatin. Let this stand for about 1 minute to soften the gelatin.
Next, heat the gelatin mixture over low heat until the gelatin is dissolved. Remove the pan from the heat, and set aside to cool slightly.
In a separate large saucepan, combine the whipping cream, Apothic Merlot, 10% cream, and sugar, and bring this mixture just to a simmer over moderately high heat, stirring frequently.
Once the mixture has started simmering, remove the pan from heat and stir in the gelatin mixture, and vanilla.
Divide this cream mixture evenly among the eight 1⁄2 cup ramekins and allow them to cool to room temperature.
Cover the ramekins and chill for at least 4 hours to overnight.
Berry wine sauce (optional)
Combine Apothic Merlot, lemon juice, seasonal berries, and sugar in a large saucepan. Bring the mixture to a boil, stirring frequently until the sugar has dissolved.
Boil hard for 1 minute, stirring constantly so the sugars do not burn.
Remove the pan from the heat, and let it cool down to room temperature.
Finish & Serve
When you're ready to serve, prepare a bowl of hot water and carefully dip the ramekins, one at a time, into the bowl of hot water for 3 seconds each. This will loosen the insides.
Run a thin knife around the edge of each ramekin, and carefully invert each ramekin onto the centre of your dessert plate.
Spoon on some homemade berry sauce, and enjoy your silky, smooth creation with a glass of Apothic Merlot.