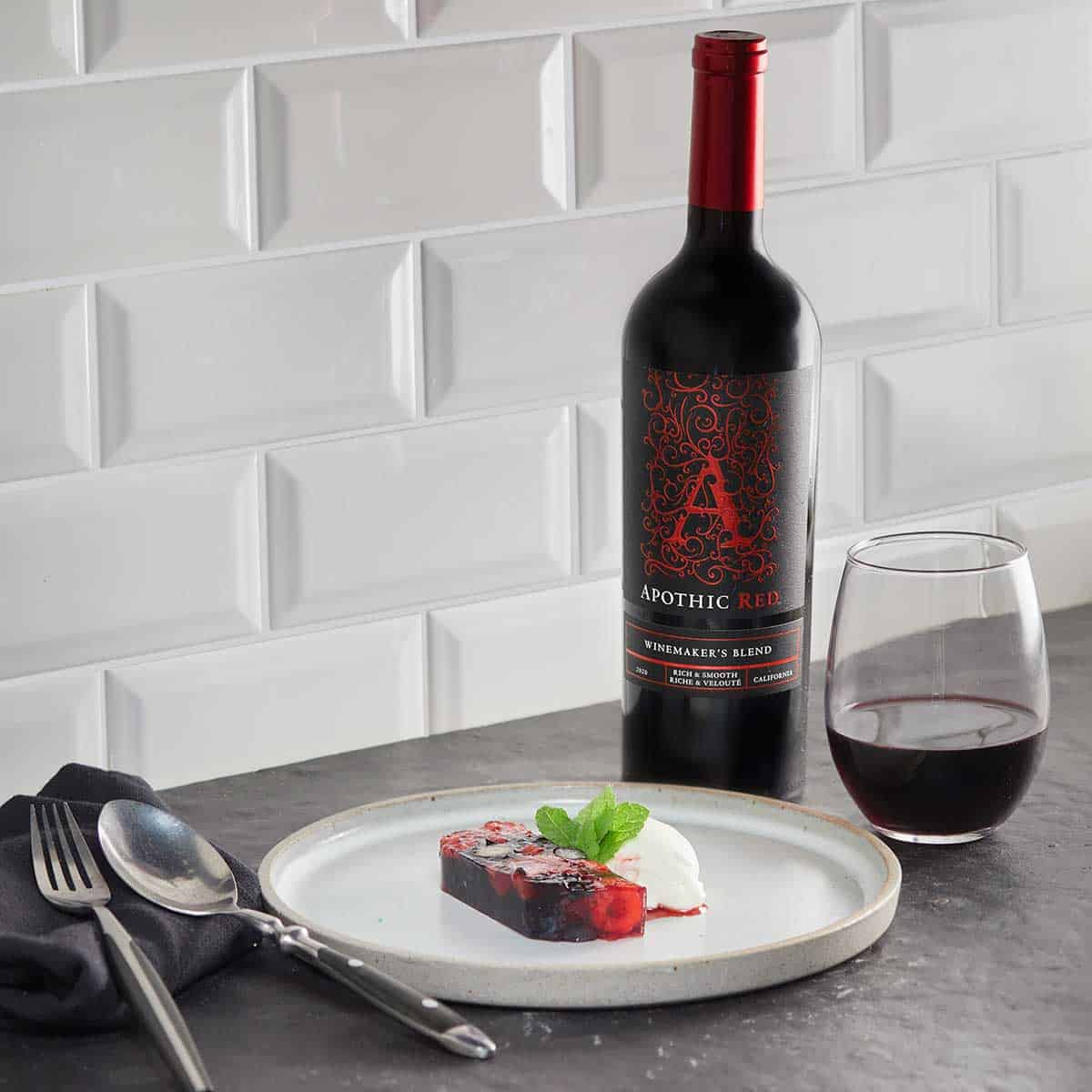 Ingredients
2 envelopes (1/4 ounce each) unflavored gelatin
2 cups Apothic Red
1/2 cup white granulated sugar
6 cups mixed fresh berries (berries can include blueberries, raspberries, blackberries, and sliced/quartered strawberries)
Prepare
Start by softening the gelatin. Put a ¼ cup of Apothic Red into a small bowl. Sprinkle the gelatin over the wine and let it sit for 2 to 3 minutes while the gelatin softens.
Then, make the wine gelatin base: put another ¼ cup of Apothic Red and a ½ cup of sugar into a saucepan and heat on medium high until the sugar has dissolved. Remove the pot from the heat and stir in the gelatin mixture until it has dissolved and all ingredients are fully combined. Stir in the remaining 1 ½ cups of Apothic Red. Set the liquid aside to allow it to cool down, so it doesn't 'cook' your fruits in the next step.
Put your mixed berries into a 4×8 loaf pan. Pour the wine jelly mixture over the fruit, and press down so the berries are submerged as much as possible into the liquid. You can use a plate to weigh it down, or wrap plastic wrap tightly over the pan and press down on the berries.
Once the mixture has cooled to room temperature, cover the loaf pan with plastic wrap (if not already done so from the previous step) and chill in the refrigerator until firm, at least 3 hours or whenever you're ready to serve.
Finish & Serve
To unmould, fill a basin half-way with hot water. Carefully lower the bottom of the loaf pan into the hot water and hold for 5 to 8 seconds. This will melt the gelatin at the edge of the pan, helping it to release. Next, run a dull knife around the edge of the pan.
Place a serving platter presentation-side down on top of the loaf pan and turn the whole pan over. Shake gently to fully release the mould, and slice to your desired thickness
Serve each delicate slice with a glass of Apothic Red to experience the full symphony of berries and dark red fruit flavours.