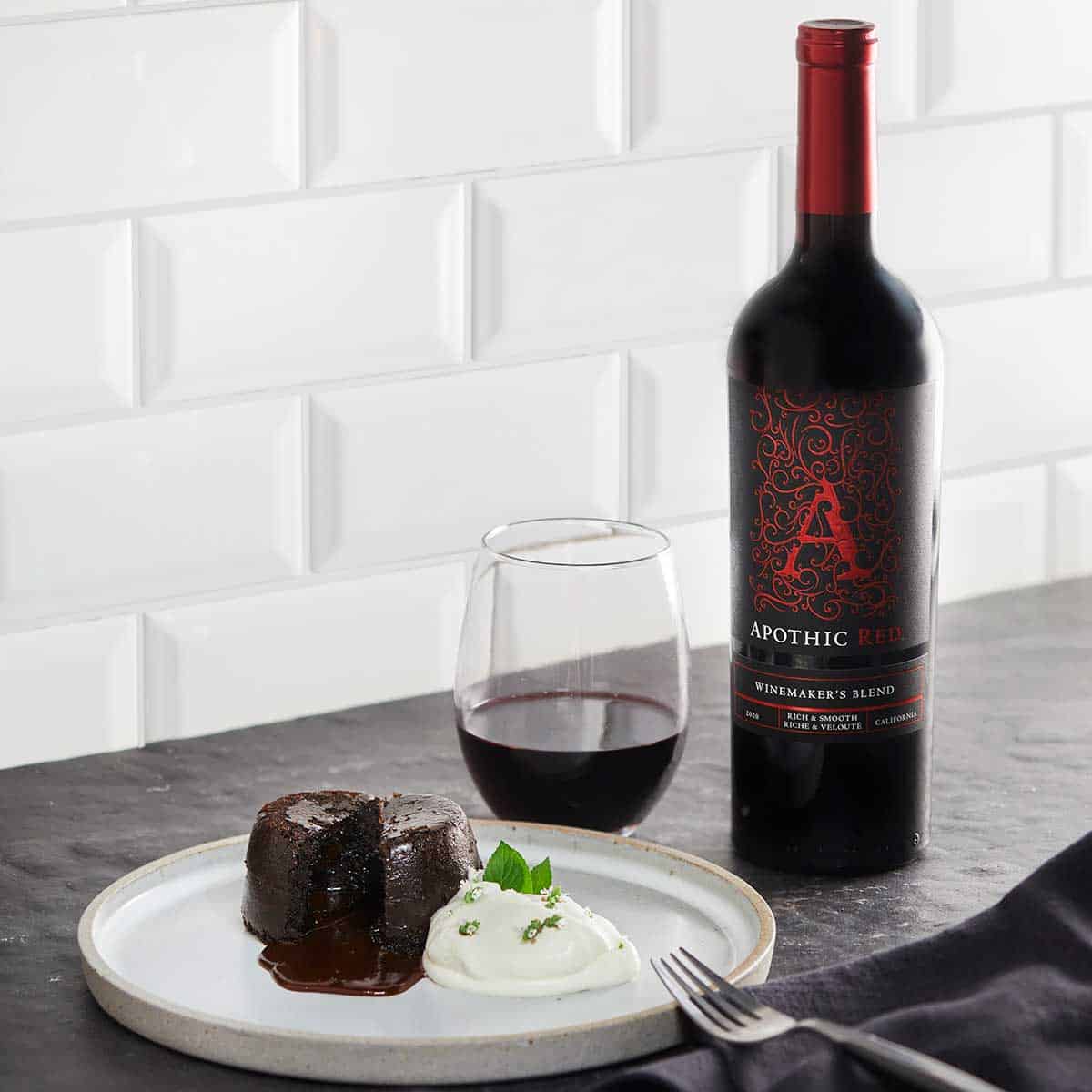 Ingredients
1 stick (4 ounces) unsalted butter
6 ounces bittersweet chocolate
2 whole eggs
2 egg yolks
¼ cup sugar
Pinch of salt
2 tbsp all-purpose flour
½ cup Apothic Red
Whipped cream (store bought, optional)
Prepare
Preheat the oven to 450°F. Butter and lightly flour four 6-ounce ramekins. Tap out the excess flour, then set the ramekins on a baking sheet.
Separate the egg yolk from the egg by carefully cracking the egg in the middle and prying the egg apart. Then, pass the yolks back and forth between the shells of the egg, dropping the whites into a bowl as you go, until you are left with just the yolks in the shells.
In a double boiler, over simmering water, melt the butter with the chocolate. Once the chocolate is melted, remove from the heat.
Egg mixture: in a separate medium bowl, beat the whole eggs with the 2 egg yolks, Apothic Red, sugar and salt, and whisk at high speed until the mixture is thickened and pale in colour. Set aside.
Prior to incorporation into the egg mixture, whisk the chocolate again until smooth (it might settle and/or develop a 'skin' on top of the chocolate as it cools). Then, quickly fold the chocolate into the egg mixture along with the 2 tbsp of flour. Combine the ingredients fully but do not overmix.
Spoon the batter into the prepared ramekins and bake for 12 minutes, or until the sides of the cakes are firm but the centres are soft.
Let the cakes cool in the ramekins for 1 minute.
Finish & Serve
*We recommend serving these cakes warm so that the chocolate centres flow as you cut into the cake!
Cover the ramekin with an inverted dessert plate and carefully flip it over. Let it stand for 10 seconds, maybe wiggle the ramekin a bit, before unmoulding completely.
Dollop a spoonful of whipped cream on your plate and garnish as desired with a few mint leaves and edible flowers. Then, sit back and embrace the familiar flavours of dark, melting chocolate with a glass of Apothic Red.