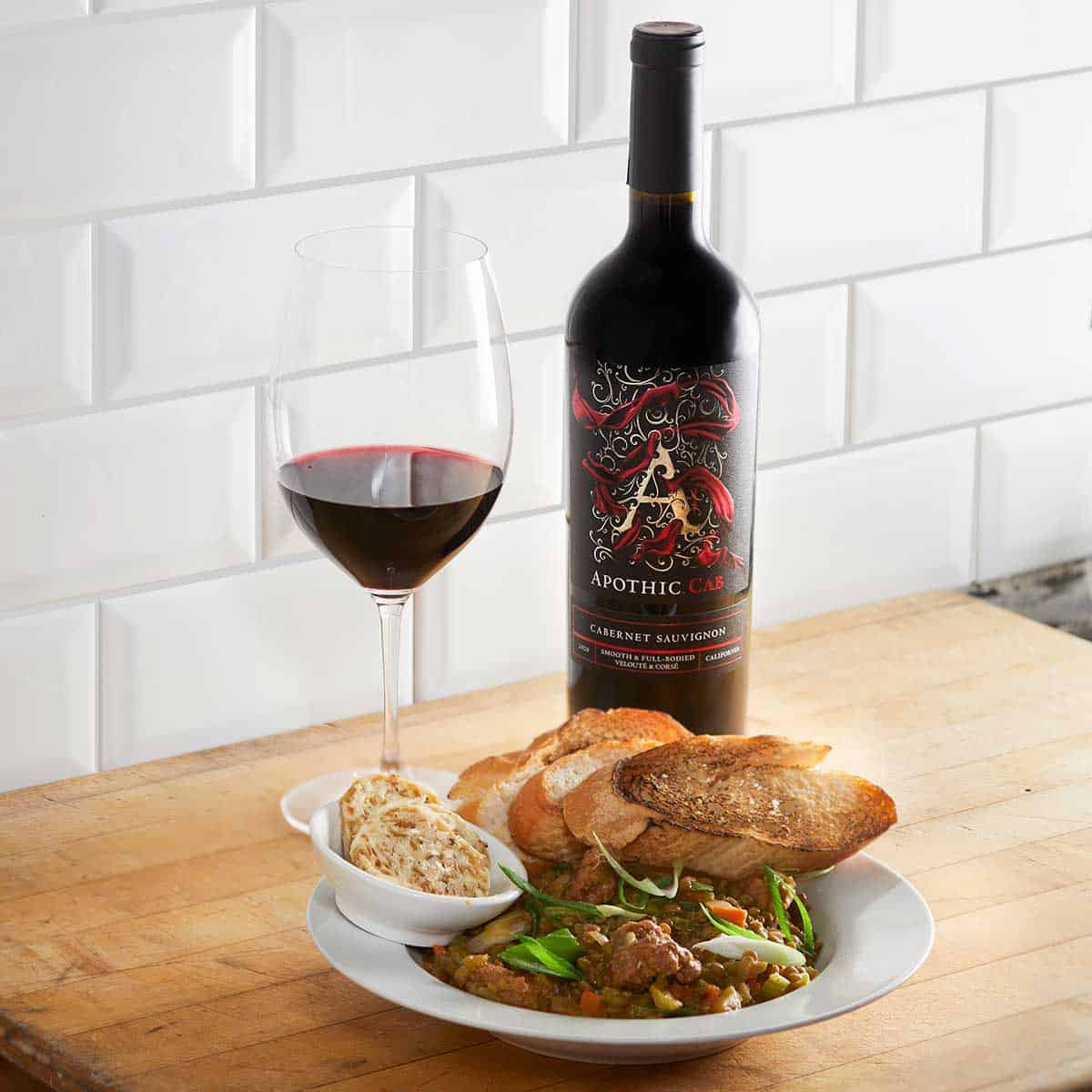 Ingredients
Lentil stew
2 tbsp olive oil
2 pieces celery, sliced
2 medium carrots, chopped
1 medium onion, chopped
3 cloves garlic, sliced
12 oz chorizo, sliced (any sausage will do, optional)
8 cups water
2 cups French or green lentils
½ tsp kosher salt
½ tsp black pepper
Caramelized onion butter
1 medium onion, thinly sliced
2 tbsp olive oil
¼ tsp salt (to taste)
1 cup butter
Plating
Crusty French bread (toasted)
3 pieces scallion (diagonally cut)
Prepare
Lentils prep
To help your lentils cook faster in the stew, give them a cool rinse in water before pouring them into a large pot and covering them with cold water.
Allow them to soak for at least 4 hours or overnight (not more than 24 hours) for best results.
Drain your lentils and set aside in an airtight container until you're ready to make the stew.
Caramelized onion butter
Remove your butter from the fridge and allow it to soften to room temperature.
Peel the onion, cut it in half, and slice it into thin strips. Add the oil to a non-stick frying pan and place it over high heat. When the oil is hot and shimmering, add in the onion and sautée, stirring continually.
When the onions have softened and are lightly browned, add the ¼ tsp salt and mix. Continue to cook until the onions are thoroughly browned and sticky – anywhere between 30 minutes to an hour. If it sticks to the pan, add in a bit of water to loosen the bits from the bottom of the pan, and continue to cook the onions down.
When they've caramelized to your liking, remove it from the heat and set aside to cool.
Add the cooled onions to your food processor and blend on high for 1 minute.
Add the softened butter, salt to taste, and blend on medium speed until both are well combined.
Spoon the butter mix onto a sheet of plastic wrap and gently roll it into a log shape.
Store the compound butter in the fridge until it sets.
Lentil stew
Dice the carrots and onion into small cubes. Slice the celery into small pieces. Peel the garlic cloves and slice them thinly.
Slice the chorizo into thin pieces.
Coat a large pot or Dutch oven with oil, and heat over medium heat.
Add in your sliced chorizo and give them a quick sear to brown both sides.
Then, add in the celery, carrots, onion, and garlic to the pot, stirring occasionally, until the vegetables have softened – around 8 to 10 minutes.
Next add in the soaked lentils, and 8 cups of water to the pot. Add ½ tsp each of salt and pepper and stir to combine. Bring the pot to a boil.
Reduce the heat and simmer, stirring occasionally, until most of the water is absorbed and the lentils are tender – about 35 to 45 minutes.
Once the stew reaches your desired consistency, take it off the heat.
Finish & Serve
When you're ready to serve, ladle the warm stew into bowls and garnish with the sliced scallions. Serve the stew with toasted crusty bread, the compound butter, and a glass of Apothic Cab for a night of easy conversations and even better company.