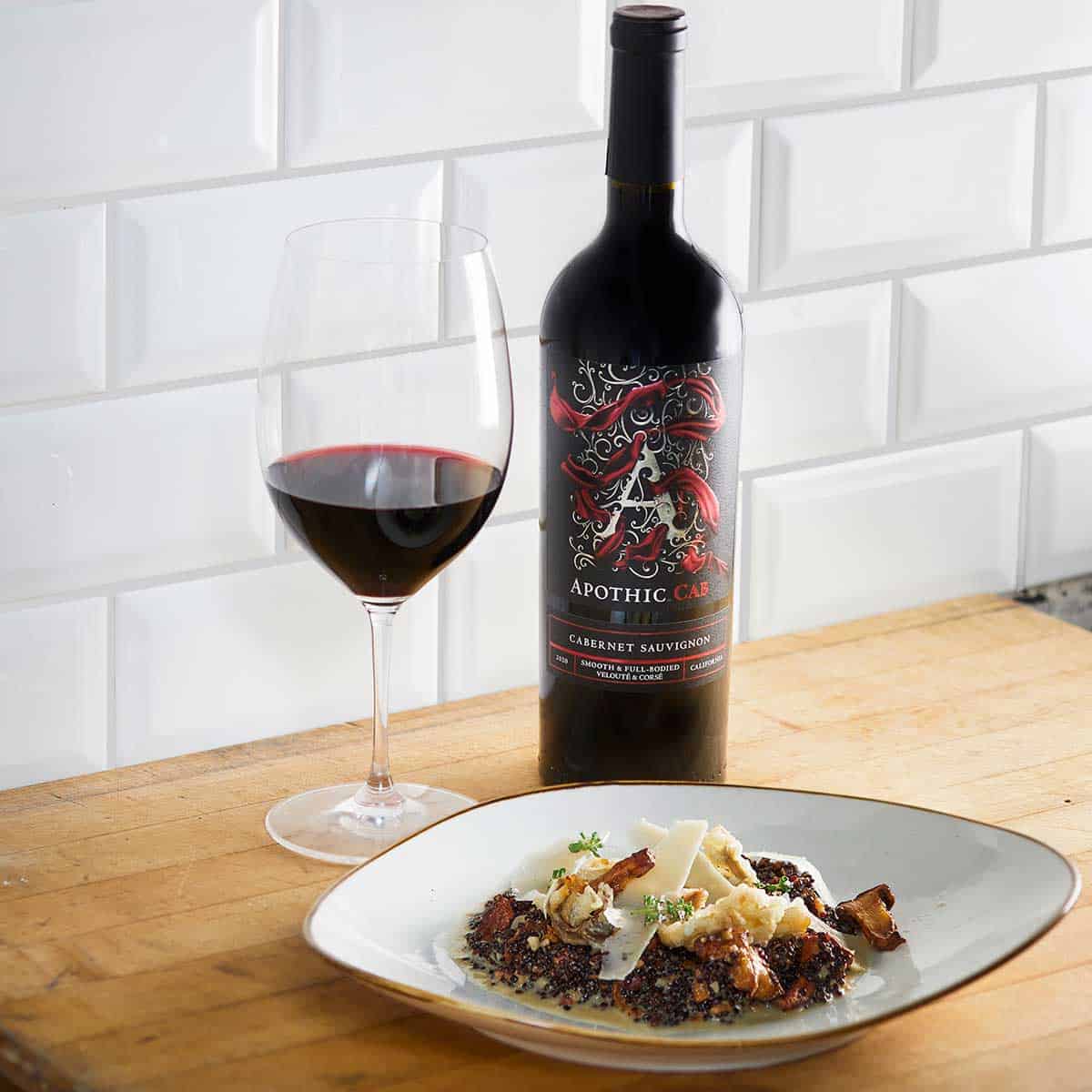 Ingredients
Fried maitake mushrooms (optional)
½ lb maitake mushrooms (or any mushrooms)
1 large egg
¾ cup + 4 tsp (200 ml) iced water
1 cup all-purpose flour
4 cups vegetable oil
 Quinoa risotto
1 cup of red or black quinoa
1 onion, finely chopped
2 cups assorted mushrooms
1 garlic clove, minced
1 tbsp olive oil
2-3 rashers of bacon
¼ cup of cooking sherry (optional)
1 cube vegetable stock dissolved in 1 ½ cups of water
4 tbsp freshly grated parmesan
Salt and freshly ground pepper, to taste
Prepare
Fried maitake mushrooms
Clean your mushrooms, and break them into bite-sized pieces.
Heat up the oil in a pot on medium-high heat.
Combine the egg, water and flour together. Lightly coat the mushrooms in the mixture.
Drop the mushroom in batches into the hot oil and fry until golden brown.
Remove from the oil and drain off any excess oil on a sheet of paper towels. Set aside until you're ready to serve.
 Quinoa risotto
Peel and finely chop an onion.
Mince the garlic clove.
Dice the bacon into small pieces.
Warm the oil in a large skillet over medium high heat. Add the onion and garlic, and cook for 2 to 3 minutes until the garlic becomes fragrant but does not brown.
Add in the quinoa and cook for a minute with the onion and garlic, constantly stirring.
Turn up the heat and pour in the cooking sherry to deglaze the pan; stir the mixture for 3-5 min to cook off the alcohol, and reduce the heat back down to medium high heat.
In a separate pan, cook the bacon until crispy. Remove the bacon from the pan and drain off the excess oil in a paper towel lined plate.
In the same pan that you used to cook the bacon, drain off some of the fat and use it to cook the assorted mushrooms: turn the stove on medium high heat and sautée the mushrooms until tender. Season with salt and pepper to taste.
Add your sautéed mushrooms into your quinoa mixture and stir to combine all the ingredients thoroughly.
Add the vegetable stock and when it starts boiling, reduce the heat to low.
Cook for 30 min, stirring occasionally so it doesn't stick to the pan.
When most of the liquid is absorbed, add in the bacon, then parmesan and salt – adjust both to taste as needed. Stir to combine, and remove from the heat.
Finish & Serve
Spoon a generous helping of risotto onto a plate, top it with the deep fried maitakes, and grate parmesan slices on top to garnish. Enjoy this rustic new take of a classic dish with a glass of Apothic Cab.