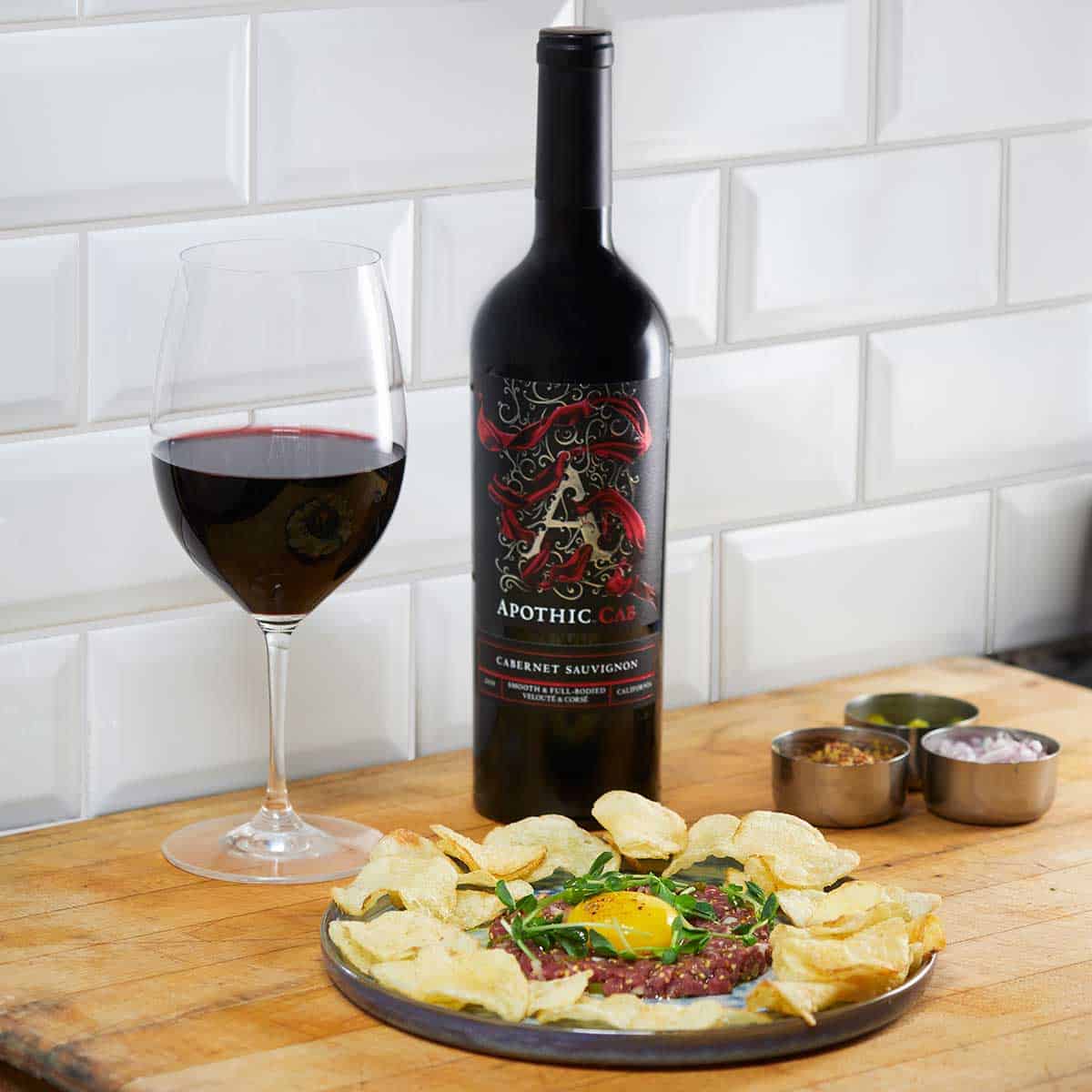 Ingredients
6-8oz tenderloin or top sirloin or flat iron
1 tsp grainy mustard
1 egg yolk
2 pieces cornichon or baby gherkins
1 ¼ tbsp shallot (minced)
1 tbsp parsley or any mild herb or micro greens
1 small bag of kettle cooked potato chips
1 tbsp extra virgin olive oil
½ tsp Worcestershire sauce
10-15 dashes Tabasco Sauce
Salt and pepper to taste
Prepare
Ensure that your tenderloin, top round, or flat iron is fresh from the butcher. Ask the butcher to clean any connective tissue, silver skin, and excess fat.
At home, prepare the dish by finely mincing the pickles,  shallots, and chopping the herbs finely.
Next, mince your beef finely and set aside.
Combine all the ingredients together and mix carefully. Add in the grainy mustard, and season with salt and pepper to taste. Set aside so the mixture marinates while you prepare the rest of the dish.
To separate the yolk from the white of the egg, take your egg and gently crack it as close to the centre as possible. Pry the yolk into halves and begin passing the yolk back and forth between the two halves, dropping as much of the egg white as possible into a bowl, and being careful not to break the yolk. Once separated, place the yolk gently in a bowl and set aside.
Finish & Serve
When you're ready to serve, press your tartare mix into a ring mould on top of your serving plate – if you don't have a ring mould, a well-cleaned tuna can will work great as a substitute!
Place your egg yolk in the centre of the tartare circle and top it with microgreens and any leftover minced herbs. Drizzle the tartare lightly with olive oil to give the beef a bit of shine. Surround the plate with kettle chips, and serve with a glass of Apothic Cab to enjoy this light take on the classic steak and wine combo.