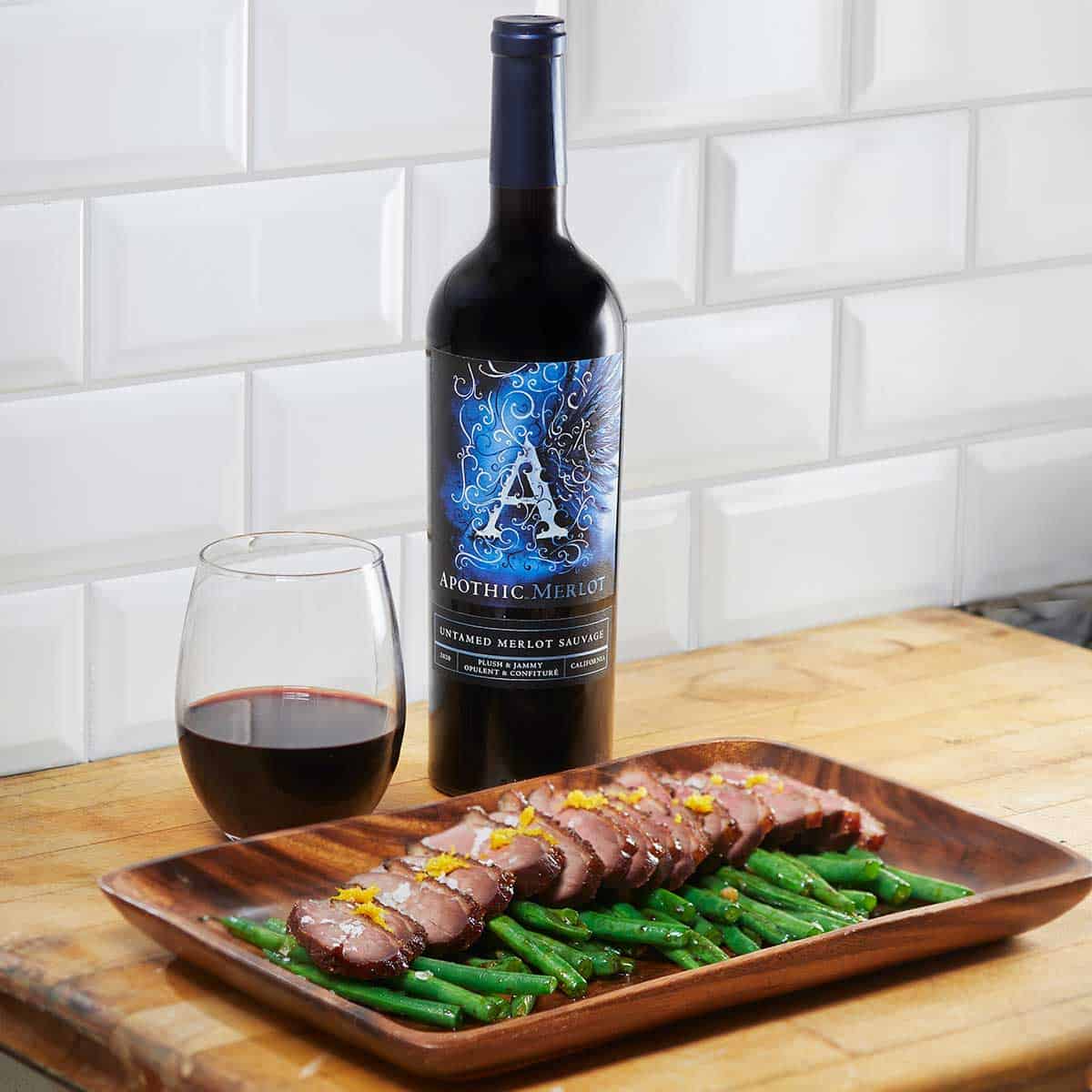 Ingredients
2 whole duck breast
1 tsp Chinese 5 spice
3 tbsp hoisin sauce
1 cup soy sauce
3 tbsp honey
1 whole orange
6 cloves garlic
¾ lbs green beans
2tbsp oyster sauce
¼ cup sake
2tbsp unsalted butter
Maldon salt to taste
Prepare
Duck prep
Start this duck recipe by scoring the fat of the duck breast. Do this by gently cutting a shallow cross-hatch pattern of lines one inch apart.
Remove the tender from the breast (if applicable) by peeling it away with your hands – it should come away with little effort.
Marinade prep (overnight)
Zest 1 large orange to remove the outer orange layer. Place zest aside.
Mince 6 cloves of garlic.
In a mixing bowl, add half of the minced garlic, the orange zest, hoisin sauce, soy sauce, honey, and five spice, and whisk everything together.
Add the marinade to a ziplock bag along with the duck, and coat the duck in the marinade. Set this in the fridge overnight.
Roasting the duck
Preheat the oven to 400F.
Line a sheet pan with parchment paper and place the duck breast on the pan, setting the marinade aside.
Once the oven is preheated, roast the duck for 20-25 minutes, or until the skin is browned and the internal temperature reaches 155F. Prepare the sauce (instructions below).
Remove the duck from the oven and rest it for 15 minutes.
Sauce prep
While the duck is roasting, add the marinade liquid to a pot. Bring the pot to a boil on high heat and then lower it to a simmer to allow the liquid to start reducing.
After 15 minutes, remove the pot from the heat and add in the butter, whisking it in to thoroughly combine.
Green bean stir fry
Add a tablespoon of oil to a pan or wok, and heat it on high. Add in the green beans and cook them on high heat for two minutes, while continuously tossing or stirring. After two minutes, add the leftover half of the garlic and continue to stir fry until the garlic has begun to brown lightly.
Add the sake to the pan – be careful, this may catch fire. If it does, do not panic and allow the alcohol to burn off naturally – usually only a few minutes.
Add in the oyster sauce and toss together until fully coated for another minute before taking it off the heat.
Finish & Serve
After the duck has rested for fifteen minutes, cut the breast into slices and place on top of a bed of stir fried green beans.
Spoon the reduced marinade sauce onto the duck – to taste.
Finish with a sprinkle of Maldon salt, and any leftover orange zest. Enjoy the robust flavours of this dish with a glass of Apothic Merlot.